PROLIFERATION OF AUTONOMOUS WEAPONS How to control Killer robots?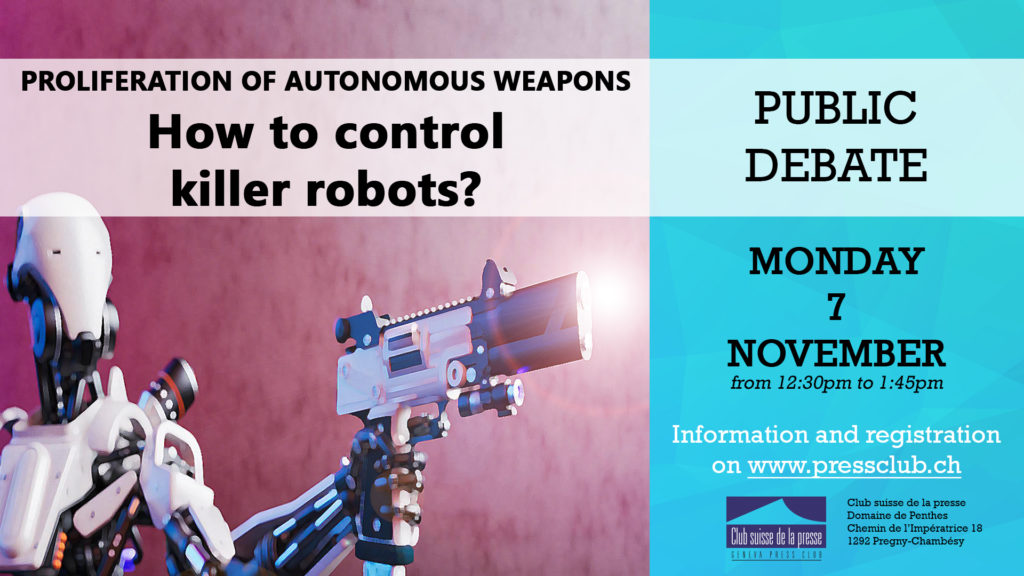 PROLIFERATION OF AUTONOMOUS WEAPONS How to control Killer robots?
With:
Mr Jean-Marc Rickli, Director of Global Risk and Resilience at the Centre for Security Policy (GCSP)
Mr Quentin Ladetto, Foresight Director at Armasuisse
Ms Cordula Droege, Director of the ICRC Legal Division
Moderator : Mr. Pierre Ruetschi, Executive Director, Geneva Press Club
For the past month, Russia has been engaging "kamikaze drones", capable of flying up to 1,000 kilometres and loaded with explosives, on targets in Ukraine. These weapons are still rudimentary compared to the increasingly sophisticated autonomous weapons being developed. The targets are no longer chosen by human fighters but by the weapons themselves. Doped with artificial intelligence, they will also automatically trigger the strikes.
These are some of the characteristics of these new weapons, which will soon be ready for use in conflict zones. Reality is catching up with science-fiction. How will these killer robots change the way war is fought? What are the risks of mistakes, especially for civilians? Will war be more or less destructive than today? Should the Geneva Conventions be adapted to a new type of war? And why are many states opposed to attempts in Geneva, for example, to prohibit or at least limit the production of autonomous weapons?
These are some of the questions that will be discussed with three experts on these wars of the near future. The military, ethical and humanitarian issues at stake are explored.
Events in the same category