PILPG Publishes Report Detailing Factual Findings And Legal Analysis Of Its Investigation Into Human Rights Abuses Against The Rohingya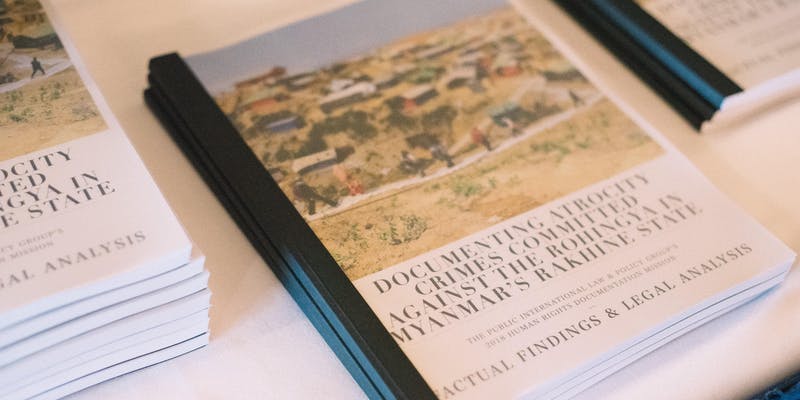 Le 26 February 2019
14:00
PILPG Publishes Report Detailing Factual Findings And Legal Analysis Of Its Investigation Into Human Rights Abuses Against The Rohingya
In March and April 2018, the Public International Law & Policy Group (PILPG) undertook an as yet unprecedented large-scale and comprehensive human rights documentation investigation mission in the refugee camps and settlement areas in Eastern Bangladesh.  The purpose of this investigation mission was to provide an accurate accounting of the patterns of abuse and atrocity crimes perpetrated against the Rohingya in Myanmar's Rakhine State and to help inform the policy decisions related to accountability in Myanmar.  PILPG's investigation team ultimately conducted 1,024 interviews with Rohingya refugees, and those interviews are the basis of PILPG's recent Report: Documenting Atrocity Crimes Committed Against the Rohingya in Myanmar's Rakhine State — Factual Findings & Legal Analysis Report.
At the conclusion of its investigation, PILPG investigators had amassed more than 15,000 pages of documentation collected from the 1,024 interviews.  PILPG thoroughly analyzed all of that information and compiled a database of documented abuses and violations, ultimately identifying more than 13,000 instances of grave human rights abuses against the Rohingya.  Based on an analysis of those findings, PILPG drafted its initial Factual Findings Report, which described the factual findings and initial conclusions from the investigation mission, on September 24, 2018.
Additionally, and with substantial support from an array of international attorneys and international criminal law experts, PILPG conducted an extensive legal analysis of the investigation's factual findings.  The purpose of this legal analysis is to provide guidance to policymakers on the international legal ramifications of the investigation mission's findings and to facilitate the formulation of effective measures to respond to the documented atrocities.
PILPG's Factual Findings & Legal Analysis Report ultimately concludes that there are reasonable grounds to believe that crimes against humanity, genocide, and war crimes have been committed against the Rohingya in Myanmar's northern Rakhine State.
Events in the same category