Justice Starts with Truth: Torture and Censorship in Putin's Russia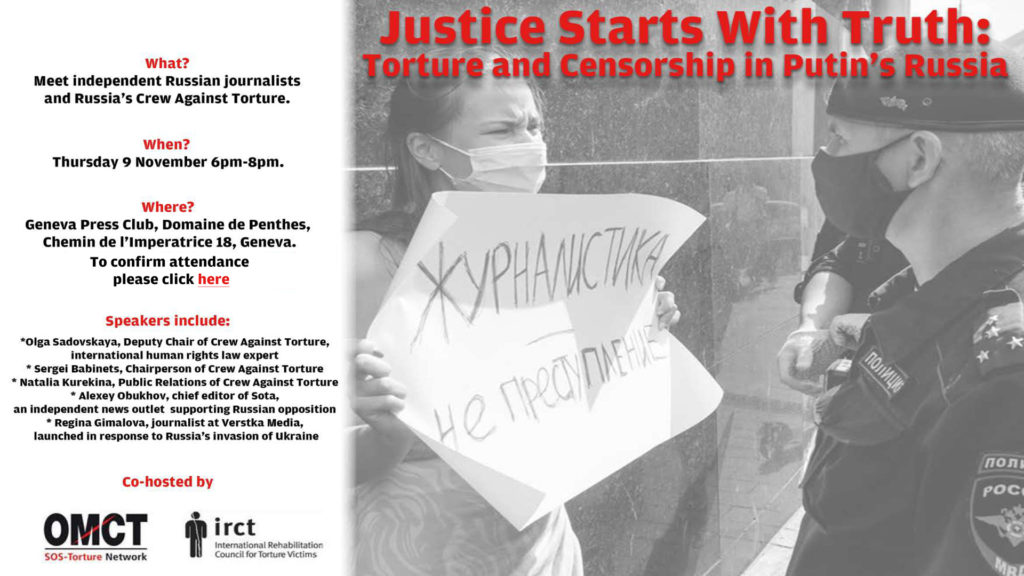 Justice Starts with Truth: Torture and Censorship in Putin's Russia
The Geneva Press Club, the OMCT (SOS-Torture Network) and the International Rehabilitation Council for Torture Victims are please to invite you to a conference.
Please register here:
With
Olga Sadovskaya, Deputy Chair of Crew Against Torture and an international human rights law expert. Olga will introduce the work of Crew Against Torture and how the group continues to document cases of torture despite repeated raids by Russian police and attempts to silence the organisation through designation as a "foreign agent"
Alexey Obukhov, chief editor of Sota, an independent news outlet supporting Russian opposition. Alexey will present cases in the new report being launched at this meeting, 'War on Media: Violations of the Rights of Russian Journalists Since the Invasion of Ukraine' with photos and videos
Regina Gimalova, journalist at Verstka Media launched in response to Russia's invasion of Ukraine. Regina will discuss reporting on human rights abuses in a climate of censorship
Sergei Babinets, Chairperson of Crew Against Torture. Sergei will share expriences from his frontline work uncovering torture in Russia, including the threats faced working in volatile regions of the Caucuses
Natalia Kurekina, Public Relations of Crew Against Torture. Natalia will present a short video highlighting how Crew Against Torture tells the story of torture and torture survivors in Russia to an audience who would rather ignore it
Join us on Thursday 9 November at 6pm CET at the Geneva Press Club and online for a unique opportunity to meet independent Russian journalists and the human rights lawyers and activists they work with inside Russia.
What is it like trying to challenge Putin's regime of abuse, working to uncover truth in a country where police torture false confessions from ordinary Russians so routinely their methods have nicknames and scores, and where the State censors language so completely that official discourse resembles satire?
Since Russia's invasion of Ukraine, Putin's regime of censorship and abuse has also been waging a war on media. Members of Russia's Crew Against Torture, the leading human rights organisation documenting torture in Russia, will be joined by a panel of independent Russian journalists to launch a report into attacks against the media since the war, and to discuss the relationship between challenging torture and fighting for a free press.
The event is co-hosted by Organisation Mondiale Contre la Torture (OMCT) and International Rehabilitation Council for Torture Victims (IRCT).
Events in the same category