Geneva marks World Press Freedom Day with 2021 Peace Nobels
Geneva marks World Press Freedom Day with 2021 Peace Nobels
On the occasion of World Press Freedom Day, The Geneva Press Club and the Freedom Cartoonists Foundation, are pleased to invite media representatives to a press conference at 2:45pm on May 3 2022
---
Tuesday May 3, 2022 at 2:45 pm: PRESS CONFERENCE

What freedom of the press in times of war and/or under an authoritarian regime?

With Maria Ressa and Dmitry Muratov, Nobel Peace Prize winners 2021.

At the Graduate Institute, Maison de la Paix, Room S8
>>> REGISTER BELOW
Invited to hold a press conference, the two Nobel Prize winners will answer questions and speak about journalism and freedom of speech in wartime and under authoritarian regimes. The winners of the "Kofi Annan Courage in Cartooning Award" will also be present to answer to questions.
Exceptionally, this press conference, co-organized with the Geneva Press Club, will be held at the Geneva Graduate Institute (IHEID), at the Maison de la Paix.
To participate in person or on ZOOM, registration is mandatory below
---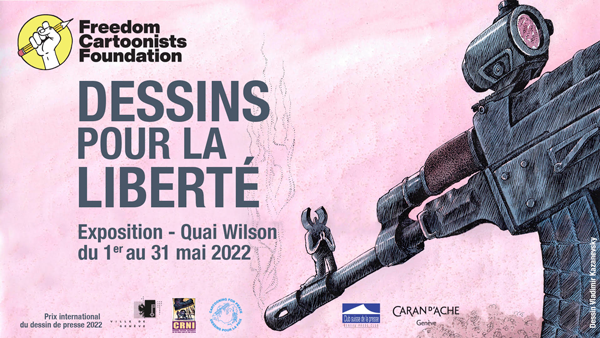 In parallel to these events, an international exhibition of some sixty press cartoons presented by the Freedom Cartoonists Foundation with the support of the City of Geneva will be held on the Quai Wilson from May 1 to 31.
For more informations, please contact :
Myriam Chakroun Houdrouge
Mobile: +41 76 760 0853
e-mail : info@freedomcartoonists.com
---
REGISTER FOR THE PRESS CONFERENCE
Events in the same category