Uzbekistan: the President announces an important set of initiatives to bolster peace, stability and development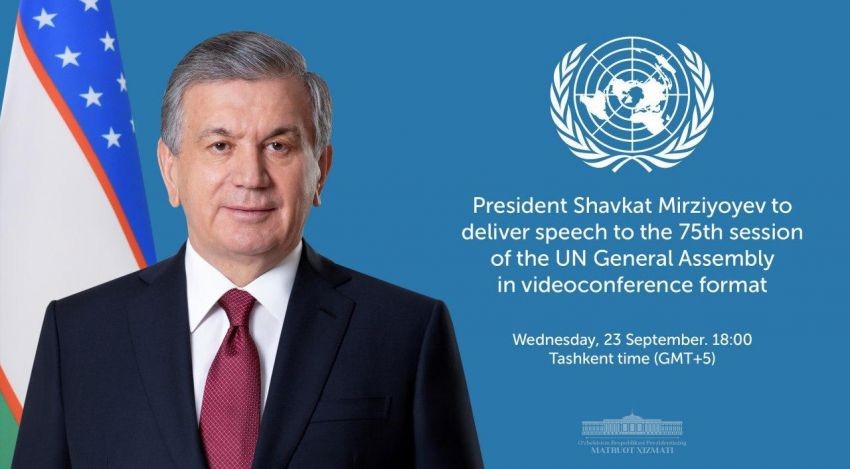 Le 23 septembre 2020
16:00
Uzbekistan: the President announces an important set of initiatives to bolster peace, stability and development
On 23 September 2020 the President of the Republic of Uzbekistan HE Mr. Shavkat Mirziyoyev will take part in the highest level general political debates at the 75th session of the United Nations General Assembly.
Pictures of the event
During the briefing, HE Mr. Ulugbek Lapasov, Ambassador, Permanent Representative of the Republic of Uzbekistan to the United Nations Office and other International Organizations in Geneva will deliver and outline main initiatives voiced by the President of the Republic of Uzbekistan.
In his address to the session, the head of Uzbekistan is anticipated to present the international community with his vision of the pressing issues on regional and global agenda and outline priorities of the political, social and economic modernization of Uzbekistan.
As the principal topic of overall debates suggests, President Shavkat Mirziyoyev is scheduled to speak about joint efforts to combat coronavirus pandemic and overcome its impact.
Speech by President of Uzbekistan Shavkat Mirziyoyev to 75th session of the UN General Assembly
Uzbekistan's leader is expected to put forward a range of important initiatives designed to bolster peace and stability, secure sustainable development, enhance constructive dialogue in the region and at the global level, promote human rights and freedoms, as well as address contemporary challenges and threats, including climate change, food security, poverty reduction.
Conférenciers
HE Mr. Ulugbek Lapasov
Ambassador, Permanent Representative of the Republic of Uzbekistan to the United Nations Office and other International Organizations in Geneva
Événements sur le même thème