Governments and Tech Industry in 2021: Big Clash or Grand Bargain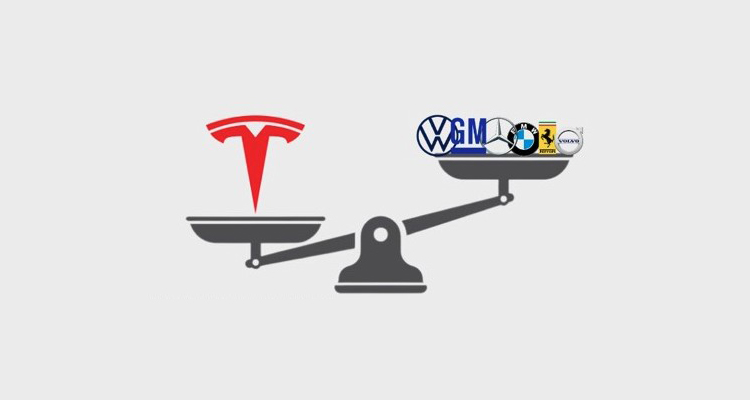 Governments and Tech Industry in 2021: Big Clash or Grand Bargain
As Google and Facebook warned they may stop their news services in Australia if it adopts a new digital media law, Prime Minister Scott Morrison reacted firmly: 'We don't respond to threats'. The proposed law, which would force platforms to share revenue with traditional news outlets, comes as countries worldwide are grappling with the expanding reach and power of the tech industry.
At this point, neither Big Tech nor governments are powerful enough to impose their will on each other, but both may be much damaged if the digital space disintegrates along regulatory divides. Whether the current tensions turn into a clash or be an opportunity for a grand bargain is the main digital policy issue for 2021.
The new digital power landscape
The pandemic has ushered in a new era in which the tech sector runs the critical infrastructure of our society, as working, learning, and socialising have moved online like never before.
The growth of tech companies in 2020 was simply unprecedented in modern economic history. The tech sector's dominance is growing rapidly in finance, manufacturing, and other economic sectors. In the auto industry, Tesla's market capitalisation (USD$783.11 billion, as of 19 January 2021) is already higher than the combined market value of Volkswagen ($99.44 billion), General Motors ($71.52 billion), Daimler ($73.15 billion), BMW ($54.58 billion), Ferrari ($53.06 billion), and Volvo ($51.43 billion).
Tech companies are becoming more powerful than many governments. Apple's market capitalisation at the end of 2020 ($2.23 trillion) was similar to the total GDP of the entire African continent in 2019 ($2.33 trillion), and is in the range of the UK ($2.81 trillion), France ($2.79 trillion), and India ($2.69 trillion). Diplo's Data Engine provides a detailed comparison of the economic power of governments (GDP) and companies (revenue and market capitalisation).
Furthermore, Big Tech's economic power is intertwined with its 'societal power' as tech companies continue to develop deeper insights about how society functions, from purchasing patterns and personal habits to political preferences.
The COVID-19 crisis brought governments 'back' after decades of deregulation and the minimisation of the public sector's role. As the crisis has unfolded, government power has increased through lockdowns, social distancing measures, and massive financial support for the fragile economy.
Reinvigorated governments are now taking a serious look at Big Tech's ever-increasing power. The battle lines are already being drawn. Similar to Australia, other governments – of all political ideologies – are trying to impose their jurisdiction over Big Tech. Chinese authorities curtailed Alibaba by blocking the AntFinance public offering in November last year. In Washington, there is now a bipartisan push to limit the power of Big Tech and to change or even scrap Section 230 of the US Communications Decency Act, founding regulation of digital platforms. In Brussels, the EU is introducing new regulatory mechanisms around the Digital Market Act (DMA) aimed to contain the tech industry's power.
The battle lines of 2021 and beyond
The power struggle between Big Tech and governments will revolve around a few key issues:
First, the uptake of anti-monopoly rules will intensify. In the USA, antitrust actions are shifting from a tech-friendly focus on consumer impacts to the growing risks of the industry's monopolistic position. China has launched a number of investigations into monopolistic practices against major tech companies. And the EU leads the world in competition policy via its new Digital Markets Act, which takes aim at market distortions by defining the gatekeeper role of tech companies. The DMA will introduce ex-ante rules to help prevent monopolistic behaviour rather than rely solely on the current approach defined by ex-post penalties.
Second, we will see a continued emphasis on data as an economic resource that is at the heart of tech companies' business models. Regulatory efforts will range from stronger personal data protection along the lines of the EU's General Data Protection Regulation (GDPR) to increased data sovereignty that could reduce the flow of data across national borders.
Third, governments will look to digital taxation as a way to redistribute the massive wealth gains by tech companies. This will require international cooperation, especially when it comes to companies that do not pay taxes in the countries where they make a profit. While negotiations on digital taxation are ongoing at the OECD, the patience of many governments is running thin. If the OECD does not outline a global digital tax regime in the first half of the year, countries will start implementing their national digital tax regulations, some of which are already on stand-by in the UK and a few EU countries.
Fourth, digital platforms are under pressure regarding content policy, which has proven essential to maintaining – or tearing – the societal fabric. The spotlight is on content policy as platforms continue to increase polarisation across identity, political, and social divides. The view that platforms must be responsible for what they host is gaining momentum. In the USA, even a rare bipartisan consensus has emerged: the need to change Section 230 of CDA. The EU and many other countries are introducing or considering content policy laws, as many are trying to figure out the right approach to the issue.
Finally, strategic and political considerations will increasingly shape the tech industry, which is considered a critical security sector in many countries. For example, previously technical negotiations on digital standards are becoming more and more political. The US ban of the use of Huawei networking equipment, based on security considerations, is a definitive example of this trend. The Biden Administration is likely to continue limiting the market access of Chinese companies, especially in strategically critical sectors. And perhaps signalling what may come in the near future, a few think tanks close to the incoming administration have proposed a tech coalition of like-minded countries built around shared values and security interests.
Where could a tech-government grand bargain happen?
A lot will be decided on the national level as we are seeing in Australia and in other countries. Regulations passed in Beijing and Washington will have a wider impact due to the power of their tech industries. However, the cross-border nature of the digital economy will require international solutions. The EU is likely to continue playing a prominent role as a shaper of global digital norms. The bloc's General Data Protection Regulation is a standard-setter on data protection, and it has its sights set on digital issues like competition, AI, and cybersecurity. A tech bargain may also happen among the G7, a gathering of Western developed nations; the G20, a club more reflective of the distribution of economic, political, and digital power; or the G193, as the UN serves as the most legitimate international body that could be home to a digital home for humanity.
Ultimately, the Biden Administration will have a decisive influence on where this tech-government grand bargain will occur. Will it happen bilaterally with China – which, at this point, is unlikely – or via a coalition of like-minded countries aimed to contain China as outlined in proposals by the US think tanks for A Technology Alliance and A Digital Trade Zone. The new administration may also reinvigorate multilateralism via digital cooperation as proposed by the UN Secretary General's Roadmap for Digital Cooperation. By doing so, the USA would not only regain its role as the champion of the traditional multilateral order but would also pave the way for a new inclusive, informed, and impactful global governance.
A path forward
Although pessimism is in great supply today, there are some signs of hope. Big Tech and governments both wield immense power that calls for partnership over conflict. Governments have to maintain a delicate balance between taking back tech sovereignty and benefiting from digitally-driven global interdependence. The tech sector, on the other hand, would benefit from predictable international rules on data, AI, e-commerce, and cybersecurity. In exchange for giving up some of their enormous power and wealth, tech companies will get a more sustainable future. If all trade-offs are carefully managed, 2021 may bring us – at the very least – the major building blocks of a new deal between governments and the tech industry. Ideally, this deal should be reached under the umbrella of the UN, which can become a digital home for humanity.
Conférenciers
Dr. Jovan Kurbalija
Former executive director of the Secretariat of the UN High-level Panel on Digital Cooperation. Currently, Director of DiploFoundation and head of the Geneva Internet Platform
Événements sur le même thème