« Fetisov Journalism Awards »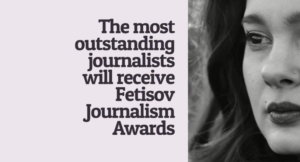 The award ceremony will take place on
Wednesday, January 22nd, 2020
Luzern, Switzerland
Applications are accepted from August 10th, 2019 (00:01 GMT)
to October 1st, 2019.
════════════════════
A shortlist of finalists will be defined by the Expert Council in the
period between October 1st and November 20th, 2019.
Twelve finalists (three prize-winners among them) will be selected by
the Jury in the period between November 20th and December 15th 2019.
Winning projects in each category will be revealed at the award ceremony
that will take place in Luzern Switzerland on January 22nd, 2020. The
finalists as well as all the members of the Expert Council and the Jury
will be invited to attend the ceremony and Gala evening. All the
expenses will be covered.
View the rules of entry >>  https://fjawards.com/how-to-enter
Fetisov Journalism Awards >> https://fjawards.com/
════════════════════

▢ Mission
The mission of Fetisov Journalism Awards is to promote universal human values such as honesty, justice, courage and nobility through the example of outstanding journalists from all over the world as their dedicated service and commitment contribute to changing the world for the better.
▢ Goals
– Promotion of contemporary journalism as a unique profession that contributes to transforming the lives of individuals, communities and the world as a whole
– Spreading the word about inspiring deeds of the award nominees and winners
– Bringing journalists together as a community of like-minded people willing to raise journalism to an entirely new level and to meet new demands
▢ Objectives
– Organization of annual global contests for journalists in order to distinguish the works of those who bring up hot-button issues and have widespread impact
– Rewarding outstanding journalists with major money prizes for their dedicated work
– Helping nominees and winners to achieve greater visibility by publishing their works on the website of the contest and in printed media